STUDENT
COUGAR CLUB
What is the Student Cougar Club?
The Student Cougar Club (SCC) was created to bring together those students who want to be more than just a casual fan. The club's goal is to organize, support and help to promote all varsity Cougar athletic programs. Each year, our members attend home sporting events, as well as some away games helping to create an incredible home-court and home-field advantage for the Cougars.
The organization is also a stepping-stone for students to advance into the Cougar Club to support CofC Athletics for many years to come. All years and contributions to the Student Cougar Club roll into the general Cougar Club upon graduation. All funds go back into supporting student-athlete scholarships. We encourage you to join today and help make an impact on your College of Charleston Cougars!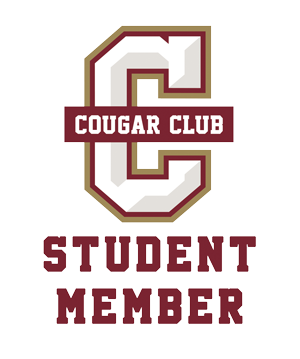 Membership & Benefits
Membership in the Student Cougar Club will give you access to several exclusive benefits and events, including…
Networking Events

A club t-shirt, cup, and car decal

The opportunity to meet Cougar student-athletes and coaches
Discounts at local restaurants and stores

Access to special events and tailgates
---